When people think 'content marketing' their minds immediately go to Google search. It's true — ranking in Google search can bring you quality, organic traffic for years to come with little extra effort beyond creating the content to begin with.
But there is another search engine I implore you to start optimizing for:
Pinterest.
Yes, Pinterest is a search engine — a visual search engine — as well as a form of social media.
What is Pinterest??
Essentially, Pinterest users have their own profiles where they can save images they like. They can organize these images into groups, and these are called Pinterest boards.
There's a search feature in the app so they can search for something specific they're looking for ("jeans with skull design"; "vegan chocolate cookie recipe"; "what to do in Santa Fe"), then save these pins to their boards.
Users can also follow other Pinterest users, in which case they will see some of the things the people they follow pin to their boards on their home feed.
Here's the kicker:
The images (or "pins") can have a URL attached to them. So Pinterest users can click through to see, say, a vegan chocolate cookie recipe on YOUR website.
What types of businesses should be using Pinterest to market themselves?
If you have a female-leaning target audience and sell products or services in the following top 7 Pinterest categories (according to Hubspot), then you should definitely be on Pinterest.
Travel
Health & Wellness
DIY home renovation projects
Women's style
Beauty
Food & Drink
Motivational Quotes
The benefits of Pinterest content marketing over Google SEO
Less competition
Google's search engine results pages (known in the content marketing universe as SERPs) give a lot of preference to sites with high domain authority (DA). This means sites like…CNN, Wikipedia, Healthline, and all the other famous ones are gonna outrank you with little effort on their part. Just because they're authoritative.
And even your competitors who have been around a while will have an easier time ranking for keywords you might want to rank for just simply because they have higher DA.
But the Pinterest algorithm seems to work differently. You can still rank pretty highly without having high DA.
The infinity scroll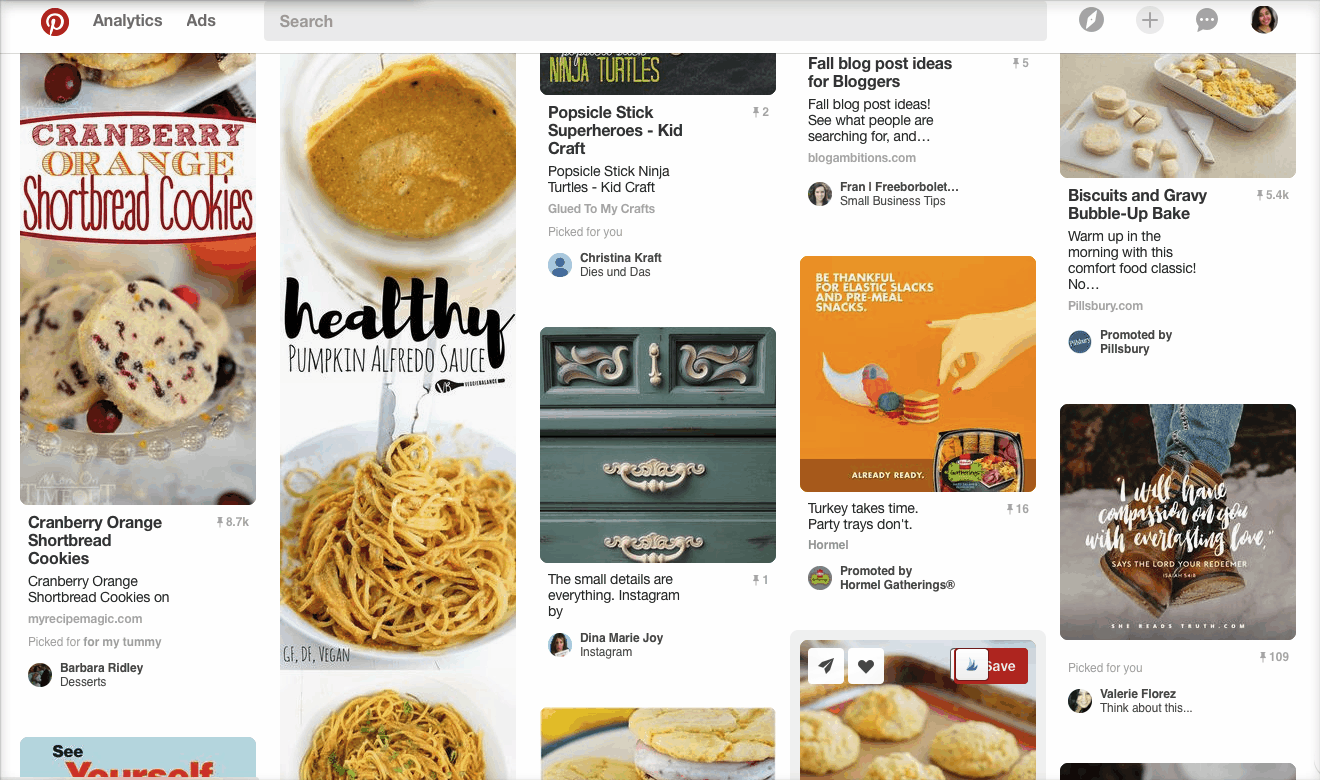 According to a Backlinko study of 5 million Google search results, the #1 result in Google gets 31.7% of all clicks. Additionally, only 0.78% of Google searchers clicked on something from the second page.
So when it comes to Google search, if you don't make it to the first page of search results, you kinda just…don't make it anywhere at all.
But on Pinterest!!
There's an infinity scroll. This reduces the friction of having to click to the next page of results by just…loading more and more results as you scroll.
All in all, you don't need to be in the top 10 to get a substantial number of click-throughs from Pinterest.
The human brain and image processing
There's this unfounded internet "fact" that humans process images 60,000x faster than words.
Well the difference between processing the two isn't THAT great, but we do in fact process images faster than text. To be precise, somewhere between 6x-600x faster.
I find this is something I can feel for myself when scrolling around Pinterest. Things just sort of register in my brain without much time or effort.
Harnessing the power of Pinterest marketing for your business
"OKAY OKAY you convinced me. Now how do I get started?"
I'm glad you asked. I offer Pinterest growth and management as a service to my clients, in addition to everything I do around Google search.
Get in touch for a free Discovery Call and I'll be real with you about whether I think your business would be a good candidate for Pinterest (and how we can get you leads through it!)